January 15, 2013
New layout progress pictures showing recent work at the Staging yard, Blaine and Bellingham.
Added a new page in artwork section called matchbooks
Updated the for sale page. The HO gage stuff is moving about as fast as I anticipated.
May 18, 2012
Added BONEYARD page for selling my excess models and GN stuff. Just the book page is up. More pages for O Scale and HO gage will be added by the end of the month.
Today is the 32nd anniversary of Mt. St Helens blowing up and the 42nd anniversary of my joining the late great U.S. Customs Service
April 6, 2012
Added page for the 2012 OSW showing several new layouts and the presentation of a special award.

OSW

page

added a new page for NormB. Friends

page

Added more material for the Mainline in '49 page

GNlines

page

Added progress pictures of Phil's Gila Mountain layout on Friends

page

Added New layout progress pictures on

layout

page

Added more material to'50s Coast line on

GNlines

page
September 15, 2001
I continue to update pages with about 75% done now. However the website has not been a priority over the summer.
June 20, 2011
I am completely rebuilding the site using the more modern Cascading Sheets Style. It has taken a long while to learn the program and I'm still not that proficient, but this change will allow better layout and graphics. As you go through the site, starting with the home page you will notice a new heading and menu bar. The home page side menu now has a direct link to every page. At this time I'm only planning a limited menu for the other pages but that may change. If you don't see a new heading, I have not up dated the page yet, but I'm working on it!
May 11 , 2011
Added new pictures showing my recently completed work

Layout

page.

Added New page called Coast Line '50 pictures in the diesel era on the Vancouver-Seattle line at the GNLINES stop
Added new pictures on Friends

page for several layouts.

Added new section to artwork

page covering GN issued stamps c.1915.
February 2 , 2011
Added new pictures showing my recently completed work

Layout

page.

Added pictures from OSW 2011 on OSW page

Added two new layouts, Rod's and Gary's, to OSW Grand Tour on OSW page
Added pictures of five locomotives on Models page
Added new pictures of Kyle's layout Layout page
January 11 , 2011
Revised the layout page with separate parts for former pikes Layout

page.

Added a new page for GN Electric locos and Revised the Y-1 and Z-1 parts on models page
January 1 , 2011
Added new layout pages for Kyle and Duane on the Friends

page.

Fixed glitches and added pix on Charlie's page Friends and the 1949 Mainline GNLines
Added pictures for four layouts visited as part of the Grand Tour to O Scale West. See OSW page.
Added pictures from OSW 2010 See OSW page.
Revised home page and Locos of the Empire Builder on models page
Pictures of my new layout will be posted soon to show work done this year. See Layout page
Up dated the Links page
Pictures from five of the layouts visited on the OSW Grand Tour
November 28 , 2010
Added Pictures of the Mt Vernon Depot to Coast line page.

Added more pictures in the Friends section . See Charlie and Victor pages.
June 15 , 2010
Reconfigured opening page, adding an OSW stop and moving Links to a new button below.

Added New Grand Tour Page having pictures of layouts visited. See

OSW

Page

Added a complete new page on painting G.N. diesels. See Models Page
Added pictures of my GN O gage locomotives and the corresponding GN prototype on the Models Page
Added to the GNLINES Page
Added more pictures in the Friends section after the March Meet in Chicago. See Gary E, Charlie, Victor, Phil and Lee pages.
Added a complete new section called BONEYARD to list excess items I have to sell at great prices home Page
Added pictures of my unique GN O gage locomotives and the corresponding GN prototype on the Models Page
Added a link to prototype GN structures on the GNLINES Page
Added much more prototype information, and pictures to the VANCOUVER LINE page. There is enough information now to do a reference sheet. I'm sharing the information I gathered while research zing this line for my current model railway. There are links between this prototype info on the GNLINES page and the current O gage layout plan on the Layout page
Reorganized may pages are took down obsolete pages.
Added an HO track plan and comments to the KETTLE FALLS page GNLINES
Added two entirely new sections GNLINES and Models. Both are accessible from the home page 'track plan' menu bar
February 3 , 2010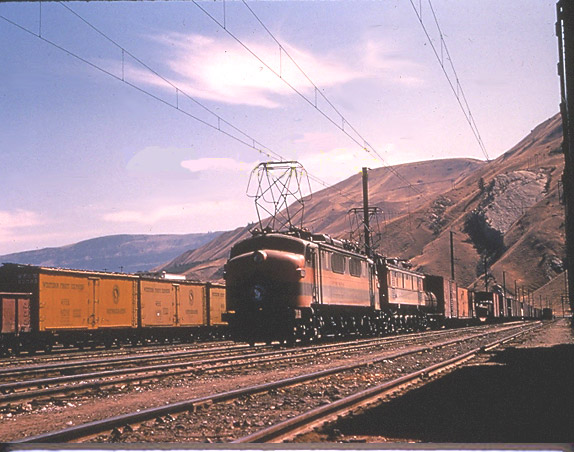 .
Back on track
I'm staying on O gage after briefly considering a change to HO.
Little has been posted in the last several months. But things are getting back to normal. regular updates will be posted.
June 6 , 2009
There have been changes to the layout plan. As mentioned in March, I decided the current layout was not meeting my expectations. I drew up a new plan that was posted on the layout page. It now seems that the City feels that their silly utility easement is more important that the requirement to expand the train room. I have therefore decided to keep most of my O scale models but to build a new layout in HO scale. This will permit an operating railroad that would like to run. In the process I've decided to sell my excess O and HO stuff on eBay. After reading so many eBay listings whinnying about Paypal I now understand the reason for the complaints and added a new page to rant about Paypal . In the future I may list the stuff I want to thin on a separate page before it goes on eBay.
Added New HO track plan. LAYOUT Page
Added a new page on Paypal at the at Layout Page - for lack of a better place to post it
Click here for the HO track plan

This is a June 1969 picture of the International stopping at Blaine on the International border with Canada. The square white object to the left of the locomotives is the Peace Arch located on the boundary. The roof of the depot can be seen above the 4th passenger car.
GN's coast line around 1939-1941 between Seattle and Vancouver is the setting for my new HO layout See the Layout page for more information.